Tronics Foundry Capabilities
Tronics is a full service MEMS foundry and our expertise in process development allows us to deliver your final product faster while exceeding quality expectations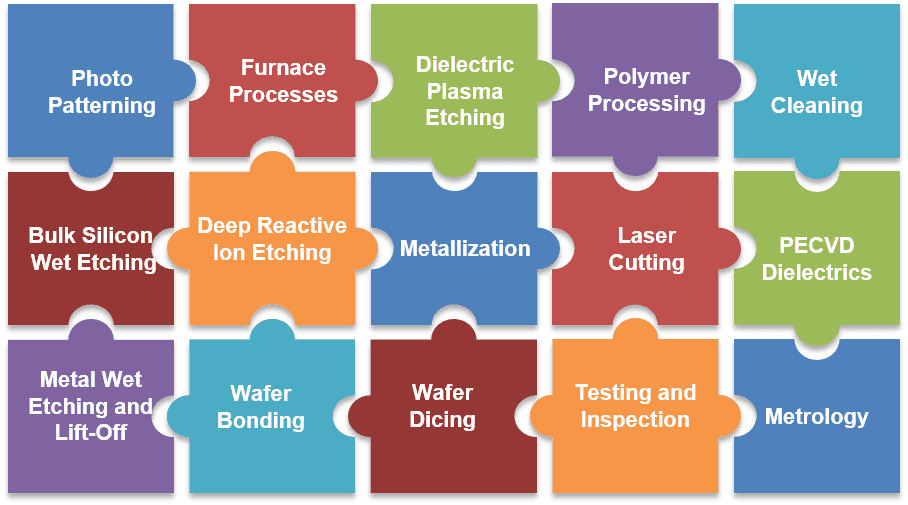 Tronics realizes that there is no singular platform for MEMS devices and that each device, especially in biosensor domain, requires a unique process flow. In order to reduce development time and speed up qualification of your device, Tronics MEMS has developed a well characterized set of process modules that can be integrated together to fabricate your device.

Tronics has extensive experience in a large variety of DRIE etches of silicon and in DRIE process development allowing our foundry to quickly design and deploy an DRIE etch that will meet the needs of your product. Whether it's forming complex structures in silicon or releasing sensitive structures and membranes from silicon, we have your process needs covered.

If wafer bonding and device encapsulation is a critical aspect of your device, Tronics has you covered. Whether you need anodic bonding, fusion bonding, or metal eutectic and compression bonding, Tronics has the process experience to meet the requirements of your device.

The world is not flat and neither should be your sensing platform. Tronics Center has developed a biocompatible platform for quickly developing flexible polymer based sensors capable of utilizing an array of different materials.

Bulk silicon etching allows for the formation of channels and structures on wafers which can form the basis of many microfluidic devices. Tronics has developed core competencies in the bulk etching of silicon with tightly controlled etch depths and profiles thanks to the use of advanced 3d metrology