High Performance MEMS Inertial Sensors for VTOL & Aerospace Applications
While commercial aircrafts have been using costly and bulky navigation-grade inertial sensors for decades, the emergence of new air mobility applications like eVTOL (Electrical Vertical Take-Off and Landing) and UAV (Unmanned Aerial Vehicle) are paving the way to a new generation of cost-effective, light, miniature and energy-efficient inertial sensors for navigation and flight control.
Alternative to analog quartz accelerometers and FOG gyros
Key features and performances for VTOL & Aerospace
The system requirements for the VTOL and aerospace markets combine high reliability and high precision under fast temperature changes and vibrations conditions during flight. High performance and low-SWaP sensors based on MEMS technologies are a tangible alternative to bulky and costly quartz accelerometers and FOG (Fiber Optic Gyros), demonstrating challenging performances at a fraction of their price, size, weight and power consumption.
High stability under temperature changes and vibrations
Tronics designs and manufactures high performance digital MEMS accelerometers and gyros that feature high bias stability and repeatability with excellent rejection of shock and vibrations, making them the ideal candidates to build GNSS-assisted navigation systems and AHRS (Attitude and Heading Reference System) for VTOL and UAV.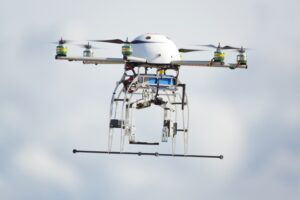 Discover our products for UAV and VTOL applications:
Accelerometers from Tronics AXO®300 product line feature a very low bias residual error of 0.5 mg and a 1 mg composite bias repeatability over a wide temperature range. They are ideally complemented by the high performance GYPRO®4000 gyros product line that feature low ARW and 10°/h bias stability and repeatability to enable high performance navigation and attitude control systems.
Tronics' high performance MEMS inertial sensors are housed in a light, miniature ceramic SMD package in order to maximize the payload of the UAV. They feature a digital SPI output to reduce the bill of material compared to analog sensors.
Please contact our team to talk further about your next VTOL or aerospace project!